I began wondering about this question while listening to my Bose Soundlink Color Bluetooth speaker while we were hanging around the house one day. I grew up with huge console stereos with monstrous speakers – and this little speaker was giving us just as much quality as I remember coming from those old units that literally became part of the furniture. How? 
Small speakers are less capable of producing bass frequencies than large speakers. However, improved technology, perceived bass, passive radiators, excursion, and amplification of vibration allow small speakers to deliver a quality dynamic sound that is close to what their larger counterparts can deliver.  
Before I go over the many methods that contribute to small speakers having a surprisingly decent sound, let me first explain the basics of how speakers work. That will definitely make things easier to understand. 
How do Speakers Work?
The fundamental science behind how speakers work hasn't really changed much in nearly a century. This is great because explaining how they work is simple. I'll make it even less complicated as I explain because we just want to know the basics here. 
Speakers work by converting electrical energy into mechanical energy (motion).  That's why they are often referred to as transducers. It's really just a term for a device that converts one form of energy (in this case electrical/audio) to another (mechanical/sound).
That mechanical energy compresses air and converts motion into sound energy. How do they accomplish this? For most loudspeakers (the kind that is in cars, concerts, or attached to stereos and computers) an electric current is sent from an amplifier through two terminals on the back of a speaker. Those terminals pass the current to a coil of wire, inducing a magnetic field that interacts with the magnetic field of the permanent magnet attached to the speaker. 
If you took science classes in grade school, you know that some charges repel each other, and different charges are attracted.  As an audio signal is sent through the voice coil and the musical waveform moves up and down, the voice coil is attracted and repelled by the permanent magnet. This makes the cone that the voice coil is attached to move back and forth. That back and forth motion creates pressure waves in the air that we perceive as sound or sound waves.
The goal, of course, is to get the waveform in the air (the pressure wave or sound wave) as similar as possible to the electronic signal (the sound recording) that was sent into the amplifier and to the speaker. Your speaker is a good speaker if every frequency is accurately reproduced to the listener without adding or removing any information.
There are several factors that determine how accurate the listening experience will be including the frequency response (how loud the output of a speaker will be at different frequencies), the amount of distortion, and the directionality (dispersion) of the speaker. 
That's the basic science behind how a speaker works. 
Why do larger speakers make a better sound? 
More goes into speaker performance than power. 
A.J.Wykes has an article that explains the basics of why larger speakers sound better. In particular, he explains why speakers are generally mounted in cases. 
"As a speaker driver's cone moves, it creates a pressure wave from both the front and from the back. As it moves towards you, pushing the air and creating a positive pressure, it simultaneously pulls the air behind it, creating negative pressure…For a speaker to function well at all frequencies, we must prevent the pressure wave created by the back of the speaker cone from canceling out the wave created by the front of the cone. Enclosed boxes allow a more practical way of doing this."

A.J.Wykes of SoundGuys.com / How Speakers Work / March 2021
Even though you can have good music without the bass, a true musician and audiophile will tell you that having the right balance of bass (low-frequency) and treble(high-frequency) is essential to good speaker performance. In my opinion, the listening experience is just not complete without both, and for me as a child of the 80s / 90s – bass is super important. 
Small speakers, usually known as tweeters, are great with medium to high-frequency sounds. However, when you try to produce low-frequency sounds with a small speaker, you'll usually get distortions in return. 
Let's talk about the traditional method of giving smaller speakers a big quality sound. This is done by introducing a subwoofer into the mix. The subwoofer's job is to produce all of the low-frequency sounds. 
Guess what? Larger speakers have traditionally had the full box encasement around the back of the cone to help produce great bass. Not only that but speaker boxes are produced too often include both the normal speakers (mids for medium and tweeters high-frequency sound) as well as a subwoofer (for low-frequency sound) all together in one encasement.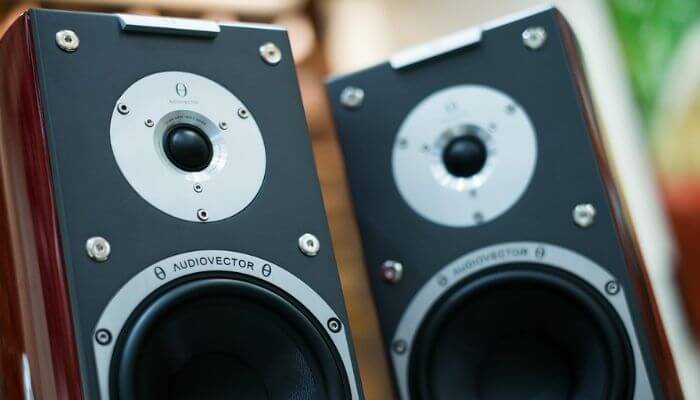 Small speakers don't have this availability. Therefore, technology had to improve in order to keep the quality of the sound while shrinking the size of the device. 
How Have Speakers Been Able to Improve?
A lot of sound design and research has gone into the development of smaller and smaller speakers over the years. Speakers are a lucrative business to be in. They're in every car, in every home, on almost every person (whether inside the phone, earbuds & headphones, or portable speakers). They are not only for entertainment and casual use but for hundreds of careers. 
The industry has been putting its money into research and development to keep up with their adjoining technology. I remember going to a BOSE store and asking about when they'd have wireless earbuds. The manager said the company didn't want to release anything less than fantastic and so they'd catch up with the technology probably within a year. I walked out with my in-ear noise-canceling headphones because I couldn't wait. But within a year they had the new wireless versions available. Considering phones started being made without the plug-in for wired speakers and headsets, they got finished just in time.  
Speaking of technology, using computers to help design and test things obviously helped get smaller speakers to this point of quality as well. Computer modeling allows designers and engineers to test the performance of their ideas without spending a lot of money on models that may fail. That means new developments happened with cone materials and shapes. Better drivers were developed; more powerful amplifiers. 
And then, the big leap: Digital Signal Processing. Also known as DSP, digital signal processing is the use of digital processing, such as by computers or more specialized digital signal processors, to perform a wide variety of signal processing operations – including frequency – audio frequency. 
DSP is fundamental to all digital technology, such as digital telecommunication and wireless communications. This leads us to learn how smaller speakers can retain similar quality sound as their larger, heavier predecessors and counterparts. 
How do Small Speakers Retain Quality Sound? Do Smaller Speakers Produce Bass? 
Small speakers barely produce any low-frequency bass. If a person tries to push bass on a small speaker too much and it's not made for that, the result will be a distorted sound. However, there are methods that manufacturers use that help their small, portable speakers give the perception that bass is part of the package. And adding bass helps create good quality audio.
In case you're not sure what kind of speakers I'm referring to, here are some examples suggested by some of the best music and technology blogs and magazines out there. I'll let you see what their brand says about them: 
JBL Flip 5 and JBL Charge 5 – The Flip 5 takes sound quality to great heights with an acoustic design. The racetrack-shaped driver with increased cone area and excursion amplifies JBL's classic signature sound, elevating the overall output of the music delivering crisp highs and deep bass. Like its predecessor, the JBL Flip 5 sports a waterproof, compact design, which means there's no stopping where this speaker can travel.
The JBL Charge 5 speaker delivers bold JBL Original Pro Sound, with its optimized long-excursion driver, separate tweeter, and dual pumping JBL passive bass radiators.
Sony SRS-XB23 – Enjoy big party sounds that are like live music, dance along to flashing lights and enjoy fun features, anytime, any place. All from one easy-to-carry speaker. Just pick it up and keep partying, wherever the mood takes you next. Uses passive radiator and has a mic. 
Bose SoundLink Flex – The SoundLink Flex Bluetooth speaker is the perfect musical sidekick, with a rugged design able to withstand water, dust, and a few bumps and bruises along the way. Whether you're hiking in the mountains or having friends over for dinner, the powerful SoundLink Flex will amaze you with lifelike performance and deep, rich tones that elevate any moment. Includes passive radiator, mic, voice prompting, DSP.
Sonos Move – Get brilliant sound anywhere with the weatherproof and drop-resistant Move. Control with your voice, the Sonos app, and Apple AirPlay 2 at home, and stream via Bluetooth when Wi-Fi isn't available. Includes assistant support, Alexa/Google, voice control, and amplifier.
Ultimate Ears WONDERBOOM 2 – Ultimate Ears WONDERBOOM 2 is a super portable speaker that rocks a surprisingly big sound – anywhere. Heading outside? Hit the all-new Outdoor Boost for louder, crisper audio that's specially tuned for outdoor listening. Plus, you can wirelessly pair two WONDERBOOM 2 speakers for an even bigger stereo or mono sound. Passive radiator technology.
Using a DSP chip – Perceived Base
Psychoacoustics is the scientific study or psychology of sound perception and audiology. This study has led to the realization that the brain can be tricked into thinking it hears a lower bass than it actually is hearing. 
Both sound engineers working on the side of the music production and manufacturers of speakers have become masters of using artificial enhancements to make you think you're hearing deep bass, even if it's not there. 
There is an algorithm used in a Digital Signal Processing(DSP) chip to create that deep bass known as dynamic bass management. It works by adding harmonics to the signal that trick our brains into hearing lower fundamental frequencies. The management system also will flow from really low frequencies into the higher bass frequencies to create the perception of more bass.
This goes as deep as the making of the music itself. Most sound engineers find the sweet spot for their music to be the midrange, and yet they use bass enhancers, like MaxxBass processor, which is a plugin specifically designed to create the aural perception of missing low-frequency harmonics.
Passive radiators
A passive radiator is a non-conductive speaker-like device that can be included in an enclosure with an actual speaker. It takes the place of the voice coil and magnet assembly. It is made specifically to deliver a lot of bass in a speaker that is quite small. They're also pretty inexpensive. 
The passive radiator system takes the sound that would otherwise be trapped in the speaker enclosure and uses it to excite a carefully tuned resonance. This tuning allows the entire speaker unit (even of a "small speaker") to produce its lowest frequencies more easily at audible amplitudes. 
It's not run by electricity, instead, it functions because of air pressure delivered to it by the smaller speaker cones in the device that have accumulated all of the electrical charges. So they "passively radiate" sound. And boy do they! 
Small speakers that use passive radiators deliver full-bodied sound at lower octaves, are perfect for portability, are less vulnerable to environmental conditions, they're just not as loud as larger speakers…aka speakers with woofers. 
Speaker excursion
Speaker excursion refers to the displacement of the speaker's diaphragm or the amplitude of the speaker's movement. In other words the distance it travels back and forth (in and out) from its nominal resting position. You know, the vibration? 
Different types of speakers are designed to accommodate different amounts of excursion. Moving larger amounts of air makes lower frequencies (bass) and so these speakers have more excursion.
Small speakers have a relatively small area and, therefore, are more reliant on excursions to produce "loud" sounds. By improving the excursion in the design of a small speaker, the small speaker may be able to produce bass frequencies we are capable of hearing without the distortion found in speakers with a weaker excursion. 
Improving Excursion by Amplifying Vibrations
When I first tried out my original Braven Waterproof Bluetooth speaker the salesman told me, "If you want the best bass, put it down on a good solid object."  
Why? Because the resonance will hit the solid object and your ears will hear a lower bass frequency. If you have your speaker up in the air or just on some flimsy material, you'll hear a much more "tinny" sound. You might have some bass due to other tricks of the trade, but it won't boom like it does when the hard surface amplifies the vibration.
 The sound waves are moving outward from the speaker, and in some cases, the smaller speakers even are full vibration speakers that need to be placed on a solid surface for the sound to be heard. The sound waves only vibrate the air to a certain point. To vibrate more air, there needs to be more surface area. So, you place the speaker on a larger surface, more air is vibrated and a larger sound is made. 
If you're interested in trying out an actual vibration speaker, here are some great picks that were recommended by top music and technology blogs along with a short blurb from their company of origin:
Vibe-Tribe Troll Mini – Troll gives you design combined with advanced technology: the world's most innovative speaker becomes a sophisticated object of design that seduces you with its clean lines and maximum versatility, while entertaining you with the fullness and personality of the sound that it releases. Troll guarantees an unique listening experience. MP3 Player
Vibe-Tribe Mamba – Mamba is the most powerful pure vibration speaker available worldwide. 18W of pure power in 6,5 cm unit. A bomb. Mamba has been fully studied, designed and engineered in Italy and patented by Unicorn srl on a world wide basis. Powerful and extremely faithful, thanks to an oversized 18W vibration core… and still staying portable. The integrated battery will let you listen to your music for more than 4 hours before recharging is necessary. Handsfree-calls and conf-calls, so you can use your own desk as a loudspeaker! Mamba is in fact equipped with an eco cancellation microphone of the last generation and will let you manage your phone calls directly from its command buttons! Daisy Chain enabled.
Thunderpuck Portable Bluetooth Mini – Thunderpuck is equipped with a powerful 26-watt surface vibrational driver designed to turn virtually any surface it's placed on into a booming speaker system, with deep, rich bass performance and well-balanced midrange and highs producing an immersive experience in sound. A single 2-hour charge provides up to 8-hours of playback. Designed to capture voice up to 8 feet away and is perfect for hands-free calls from any device whether connected via Bluetooth or directly.
In Conclusion-
Thanks to all of these methods, companies like Bose, Sony, and JBL have dominated the market, manufacturing and selling some of the smallest compact speakers. Considering I am getting portability, wireless control, in an often rugged and waterproof speaker in exchange for the higher quality and true, low-frequency bass of a larger speaker, I don't mind the minute loss of quality in the sound. To be honest, I barely notice the loss of sound quality when we play our music through them.